More Website Templates @ TemplateMonster.com. June 25, 2012!
About Our Start-Up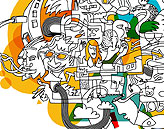 We are a software development company. Our motto is to make your life luxurious with our productive and innovative apps. Our aim is to support you with such software that makes you handle tough, time consuming, tedious jobs with simple click of buttons.
We take pride in delivering only the best.We are providing a world class service through our highly experienced and professional team
Our philosophy
Now the Virtual Era has begun… Internet has become the most convenient, easy, and comfortable way of connecting with this world. All the customers are always in front of virtual screen. People don't want to lose time in tedious work, when all such jobs can be done quickly with simple click of buttons. Instead invest their precious time into something more important. In this virtual Era, if you are not on internet, you are losing the competition.
Our approach
We always keep you prioritize, work completely according to your convenience.
Our Creative Team